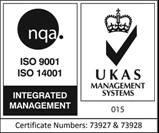 AFT Fluorotec is ISO 9001:2015 approved for the production of PTFE and fluoropolymers and CNC machined components and seals.
We recognise quality as an essential part of our product offering to our customers and believe that getting it right first time is what differentiates us from our competition.
AFT Fluorotec produce precision machined components in PTFE, PEEK and engineering plastics to the very highest quality. We have a range of Mitutoyo measuring equipment to assist with this, together with testing facilities for our materials to measure tensile strength, elongation and specific gravity.
Our inspection area and manufacturing area are temperature controlled to ensure consistency in measurement of components throughout the production run.
Our sister company SW Plastics Ltd is also Aerospace certified to AS9100D.