We have a direct supply of material through the official Dupont™ distribution channels and only use genuine Dupont™ Vespel®
DUPONT™ VESPEL®
Dupont™ Vespel® is often used in higher temperature environments where other materials can lose their mechanical properties. The material is available as an unfilled version or in several filled grades.
Small to medium batch sizes are offered through our precision CNC machining, on the majority of grades. We can advise on parts to be moulded through injection moulding, or direct forming, with secondary machining operations for precision components.
As a plastic product manufacturer, AFT Fluorotec has years of experience that we can call upon to produce the specific part you are after.

Good insulator

Superior wear resistance

Low coefficient of friction

Creep resistance

Highly durable

Heat resistance

Thermal resistance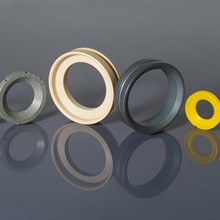 8 Common Reasons Valve Seats Fail
The importance of high-quality valve seats can't be over-emphasised since failure can be costly.
Dupont™ Vespel® is available in 5 product lines
Vespel S: A highly durable polyimide which delivers superior wear resistance, insulation and a low coefficient of friction, this material is the most common solution and delivers the best balance of properties.
Vespel TP: Provides the maximum geometric flexibility being a thermoplastic material most suited to injection moulding.
Vespel CR: provides superior chemical resistance to the harshest acids, bases and solvents. High purity, stiffness, the ultimate material for resistance to wear, corrosion and creep resistance.
Vespel CP: A fibre enhanced composite material for superior strength, high wear and impact resistance.
Vespel ASB: Suitable for intense high temperature environments, to 650°C, generally used with a metal component in an assembly.
Example applications
Spacers
Thrustwashers
Bushings
Ball Seats
Ball Valves
Backup Bearings
Dupont Vespel
Get in touch with our team of experts to discuss your project.
Our team are happy to answer any questions you have about using our products and services in your next project. Fill in your details below and we'll be in touch.