Our products are manufactured to exacting standards at quantities to suit your needs. 
All of our machined plastic parts are made to order so you get exactly what you're looking for to suit your specific industry application. We can design custom machined plastic parts to suit a wide range of uses or manufacture based on your own drawings. There really is almost nothing we cannot manufacture in plastics. 
Below is a short introduction to some of the products areas our expertise covers.
Moulding
Our range of Fluoropolymer materials include semi-finished rod, tube and sheet in PTFE, PEEK, PFA, FEP, PCTFE and many others. Fluoropolymers are commonly used in applications that require chemical resistance, sealing at temperature etc. We offer a range of compression moulded PTFE tubes in Virgin PTFE and have developed our own "AF" range of filled PTFE compounds, with in-house moulding capability up to 1000mm diameter.
All materials manufactured or supplied by AFT Fluorotec are fully certified and tested.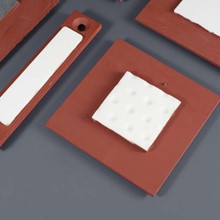 Slide Bearings
We work in close partnership with many structural steel companies, architects and engineers and find ourselves the technical partners for many of these projects when it comes to talking about slide bearings.
MACHINING
We've worked with clients to create complex plastic parts & components from a wide variety of materials and in many cases, been able to deliver solutions that other suppliers couldn't. For more information about our plastic machining capabilities, check out our overview or contact us to discuss your project.
How can we help?
Get in touch with our team of experts to discuss your project.
Our team are happy to answer any questions you have about using our products and services in your next project. Fill in your details below and we'll be in touch.