CUSTOM SEALS
Our team of experts have been designing custom seals for our clients for many years. We can not only design your seal, but recommend or design a suitable material for your application.
Custom Seals
Choosing the right material for your seals
We can't stress enough how important it is to choose the right material for your seal. It makes the difference between your seal performing as it should, and failing completely. As fluoropolymer experts, our team can help you choose the right material - whether that be a filled grade of PTFE, a grade of official VICTREX PEEK or one of our bespoke "AF" range of materials.
Importantly, we can also work with you to design a bespoke material that will suit your application and the environment it will be used in. In fact, most of our clients come to us for this experience, and we're happy to deliver a perfect solution every time.
The right material
Our technical experts work with you to understand you requirements so we can recommend the right material for the job.
Precision manufacturing
As a specialist seals manufacturer, we've manufactured millions of seals for clients across the world - either to their specifications, or to a custom design we've created for them.
A reliable supplier
We understand you need a reliable supply chain, and we work hard to ensure all orders are manufactured and delivered on time.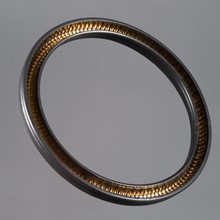 Gearbox Seals Case Study
Our technical department worked closely with our customer's design engineers to gain a full understanding of the limitations and extremes of working conditions being encountered, including temperature and media.
Contact Us
Whether you need a custom seal designed and manufactured, or you are simply looking to purchase a quantity of standard seals, our team can help.
Let's talk
Fill in your details below and we'll be in touch.