AFT Fluorotec have a broad range of experience in designing and manufacturing RCD seals for the oil & gas industry.
We've worked with clients to create bespoke materials for the most hostile operating environments, and with others to design custom seals that not only fulfil their purpose, but last longer and are more reliable than those provided by other suppliers.
For years we've worked with hundreds of different grades of virgin and unfilled PTFE, VICTREX PEEK and a range of other materials, and we've also developed our own range of "AF" materials for a variety of different applications.
Custom seal profiles
We'll work with your team to design a seal for your particular application.
Custom materials
Our bespoke materials can be designed with specific tolerances and we have a vast amount of experience in the oil & gas industry.
Custom solutions
Our service is tailored to your needs - your seals, your application, your schedule and your business. Get in touch to chat about your project.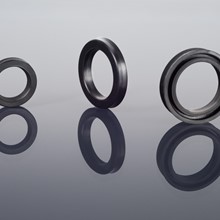 Bespoke Seals for Well Drilling
Discover how we helped one of our customers develop custom Viton seals for retrieving casing on an abandoned well.
If other suppliers can't help - we certainly can!
Every seal we manufacture is specifically designed to suit our client's applications.
Whilst we work around typical designs and groove dimensions for much of what we do, it is not a full picture of all we do.
Many of the seals we design and supply are specials – the difficult applications, the extremes, often specific to particular products and service conditions and very often oil and gas related.
When you've tried standard profile seals without success or know you're going to need a bespoke solution for a particular project, we can deliver what you need.
Contact Us
Our team are happy to answer any questions you have about our custom seals.