PTFE has the lowest coefficient of friction of any known engineering material, it is maintenance free and will not cold weld to itself and requires no lubrication.
AFT Fluorotec bearings operating temperature ranges from -40oC to +120oC but alternative bonding processes are available for temperatures outside this range. Small particles which may become embedded will not cause binding of the surfaces.
Precision experts
We are a leading manufacturer of PTFE and fluoropolymer materials, manufacturing expansion bearings to meet your individual needs.
We are flexible
Regardless of your order sum or technical requirements, we'll take it under our wing and get it right first time.
Our years of experience
AFT Fluorotec have been manufacturing expansion bearings for more than 30 years to meet your individual requirements.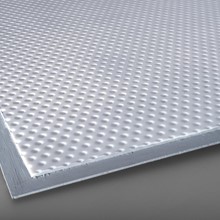 7 Advantages of Using PTFE Slide Bearings in Construction
Discover 7 advantages of using slide bearings in construction projects from supermarkets to car parks and stadia.
Expansion Bearings
Get in touch with our team of experts to discuss your project.
Our team are happy to answer any questions you have about using our products and services in your next project. Fill in your details below and we'll be in touch.