FEP coatings (Fluorinated Ethylene Propylene Copolymer) melt and flow during baking to provide smooth non-stick, non-porous films with excellent abrasion resistance.  The coating is non-porous, so its chemical resistance is superb.
FEP coatings
FEP coatings can withstand a maximum use temperature of 205°C/400°F continuously and intermittently up to 450°F.
These coatings are chemically inert to most chemicals and solvents except very strong alkali solutions and fluorine at elevated temperatures.
This coating is typically applied to a thickness of 1-5 mils DFT. FEP coatings are available in both water-based and powder forms for many application methods.

Non wetting

Operation up to 205°C/400°F

Dielectric stability

Excellent chemical resistance

Non stick

Great release properties

Low coefficient of friction

Cryogenic stability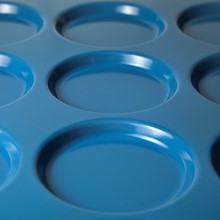 Release Coatings
Our packaging equipment coatings have a long lifespan and the foil doesn't stick. This cuts cost by improving efficiency and also makes a cleaner higher quality seal on the foil.
FEP COATINGS
Get in touch with our team of experts to discuss your project.
Our team are happy to answer any questions you have about using our products and services in your next project. Fill in your details below and we'll be in touch.