The progress made in design software in recent years enables design engineers to re-think engineering limits and set new standards in complexity, performance and miniaturisation.
We are frequently tasked with the responsibility to translate concepts into reality and production batches – many projects have seen the light of day through our ability to develop techniques and tooling suited to micro machining.
It is never simply a question of investing in a smaller machine to make a smaller part; we already operate machines designed for the watch making industry (in the days before watches needed to be recognisable at 50 metres on the touchline!). The skill is in altering tool holding and work holding practices, in predicting deflection of tools, in judging material speed & thermal transfer and a host of similar potential variables not usually experienced on larger components.
Connectors
We are proud to have assisted with development of many insulating components with a diameter of 1mm or less.
Inspection equipment
We can inspect parts up to 100x magnification and capture images and readings to share with clients.
Bespoke solution
We can design and manufacture micro parts specifically to meet your needs.
CONNECTORS
As electronics develop there is a greater need to fit more contacts into connectors which leads to the miniaturisation of the connector body. Our insulating components with a diameter of 1mm or less and they all have details such as milled flats, counter-bores, cross holes or barb retaining features. Consistency and performance are equally important in such micro parts as they are for their larger cousins.
INSPECTION EQUIPMENT 
An area in which we have invested significant research is inspection equipment – it's one thing achieving micromachining and tolerances, yet another measuring them.  Our non-contact measuring equipment and microscopes allow us to inspect parts at up to 100x magnification with the ability to capture images and readings to share with clients. We have found huge benefits when achieving surface finish on critical features and 'engineering out' the bane of all plastics machinists – the dreaded burr.
Our engineering team frequently refer to one particular item as 'the grain of sand'. Under a microscope, it's clear these parts are insulators (actually for military electronics). Such components require special handling, special cleaning techniques, special counting methods, steady hands and absolutely no sneezing!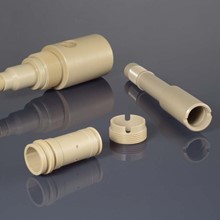 Aerospace Case Study
Read our aerospace case study which describes how we developed a bespoke range of machined connectors for an overseas client.
Micro Parts
Have a query about our micro parts? Get in touch.
Our team are happy to answer any questions you have about using our products and services in your next project. Fill in your details below and we'll be in touch.