All seals are manufactured within our UK base which gives complete control and flexibility to support almost any demand.
Our range of PTFE materials and compounds extends to more than 300 variations of virgin unfilled materials through standard filled compounds all the way to speciality blended materials to suit particular applications.
You can search our range of seal profiles below, or if you'd like to chat with us about designing a custom seal for your application, please get in touch and our team will get back to you.
High performance seals
Our seals are used by high demanding applications in the harshest environments in the world. Where other seals fail, ours continue to perform.
Unrivalled choice of materials
We can provide a wide range of standard fluoropolymer materials such as PTFE, VICTREX PEEK, PU, NBR and POM, or create a bespoke material to suit your requirements.
Reliable supplier and partner
We supply large quantities of standard and custom seals for clients all across the world, and take pride in shipping quality products and delivering on time.
Search BY Seal Type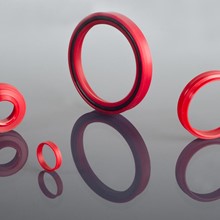 Engineering a Composite Seal for a Pharmaceutical Company
We were given the opportunity to manufacture and develop a PTFE and elastomeric seal for a pharmaceutical powder processing application. The seal it self was to be made from PTFE, which would then have a FDA compliant silicone rubber seal moulded onto it.
WHY PTFE IS GREAT FOR SEALS
PTFE has many benefits making it ideal for sealing applications.
Extremely high thermal stability, resistance to almost all chemicals, chemical inertness, Extremely low coefficient of friction (0.06), self lubricating properties, high melting point and the unique ability to resist thermal degradation.

PTFE is an ideal material for use in dynamic sealing applications, even when running dry as it does not suffer any stick/slip effect. This low friction characteristic also makes it the ideal choice for high speed dynamic applications as heat build up through friction is minimal.

The addition of various fillers can alter some or all of these properties and can be adjusted to achieve desired physical properties to suit applications making our range of PTFE seals and materials extremely 

flexible
One of the main advantages of using PTFE for seals is the wide operating temperature range

, –70 to +250 °C (–95 to +480 °F). 
From wipers and piston seals through to rod and rotary, our experience and expertise are second to none.
Download our seals brochures below, or contact us to discuss you requirements.
Contact us
Have a query about our standard seals? Get in touch to chat to our team of experts.