Our VICTREX PEEK (Polyetheretherketone) coatings consist of AF800 series PEEK powder applied to a substrate to create a protective outer layer. This type of coating is typically used to improve resistance to chemicals, corrosion, abrasion and wear when applied to metal substrates.
Thickness range
Typical AF800 PEEK coating thickness ranges from 300μm to 500μm for powders and 25μm to 75μm for liquid dispersions.
Type of Coating: Electrostatic Coating
Description: PEEK Dry powder consolidated onto parts
Coating Thickness: 100-1000 μm (5-40mil)
Type of Coating: Dispersion Coatings
Description: PEEK powder dispersed in a fluid and sprayed
Coating Thickness: 25-100 μm (1-4mil)
Tolerances of Peek
Typical coating thickness tolerance is ± 25μm on thin coats and ± 125μm on thick coats.
Download the AF800 Series Victrex PEEK Coatings datasheets in the Download Centre

Low friction abraison resistant surface

Corrosion resistance

Harder surface with low particulate generation

Broad chemical resistance

Heat resistance to 260°C (500°F)

Excellent steam and particulate abraison resistance

Excellent electrical insulator

No cold flow

Versatility - can be combined with other polymers to create unique properties
Check chemical compatibility of Victrex PEEK
Choose a chemical (start typing)
20°C / 68°F
60°C / 140°F
100°C / 212°F

Resistant

Not Recommended

No Data

Resistant

Not Recommended

No Data

Resistant

Not Recommended

No Data
Resistant
Not Recommended
No Data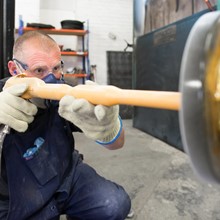 Engineers How PEEK Coatings Can Make Your Life Easier
PEEK coatings such as VICOTE® from VICTREX® have a number of useful properties and applications.
APPLICATION TECHNIQUES
AF800 PEEK powder is typically applied by one of the following methods:
• Electrostatic coating
• Dispersion coating
• Fluidized bed process
Our range of PEEK coatings
We can supply a range of coatings based on VICTREX PEEK Polymer to suit your exact requirements.
• Pure VICTREX PEEK polymer for corrosion and wear
• Combinations with graphite or ceramic for conductivity
• Combinations with PFA, FEP, and PTFE for high-temperature release and friction
PEEK Coatings
Get in touch with our PEEK Coatings team.
Our team are happy to answer any questions you have about using our products and services in your next project. Fill in your details below and we'll be in touch.