PTFE (Polytetrafluoroethylene) is a synthetic fluoropolymer of tetrafluoroethylene and is known for being one of the most versatile plastics available.
PTFE can be used for a wide range of applications and products.
What we do
AFT Fluorotec produce moulded rods and tubes in PTFE and filled PTFE compounds such as but not limited to carbon, glass, bronze, stainless steel, polymer, mineral and graphite filled materials, from 5mm diameter to 1000mm diameter. We offer hundreds of special grades ex-stock with no minimum material commitment from our customers.
AFT Fluorotec Coatings offer PTFE coatings solutions suitable for applications ranging from bakeware to aerospace and we can also work with you to determine the ideal grade of PTFE to suit your requirements.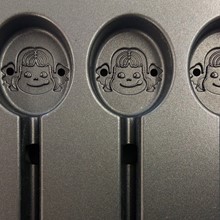 Sweet, Sweet PTFE Coatings
AFT Fluorotec Coatings recently worked with a manufacturer of confectionery processing equipment to help them coat the moulds for their equipment.
There are hundreds of different grades of PTFE
We will work with you to understand your project and recommend a grade of PTFE that's suitable for your application. Take a look at our fact sheets below to find out more.
PTFE Rods & Tubes
From 5mm diameter to 1000mm diameter.
PTFE Coatings
A tough, heat-resistant finish.
PTFE Components
Precision plastic components.
PTFE
Get in touch with our team of experts to discuss your project.
Our team are happy to answer any questions you have about using our products and services in your next project. Fill in your details below and we'll be in touch.
Related PTFE Products
We make a range of custom PTFE components for many applications, but we have also a wealth of experience in these specific areas.