The most common fluoropolymer application is in process valves. We provide valve seats, manufactured from our AF range of materials, including PTFE and filled PTFE, VICTREX PEEK and filled PEEK materials, PEEK HT, Vespel®, PCTFE, Nylon and Acetal.
Products Include
Seats and seat inserts
Thrust washers and backup rings
Stem packings
High-performance spring energised body seat and stem seals
Extreme Toughness
Valve Seats are incredibly tough during the process where the valve is mounted.
Excellent Wear Resistance
Our Valve Seats can withstand excessive wear and tear under high heat and load.
Range of Materials Available
We can help you choose the right material for your Valve Seat application.
Make use of our team to create the valve seats that are right for your project

We've been working with clients across the world to create valve seats and other precision plastic components for many years. Our team can advise you on the best choice of material for your application and even help design a bespoke material for you.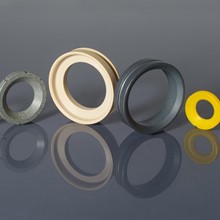 8 Common Reasons Valve Seats Fail
The importance of high-quality valve seats can't be over-emphasised since failure can be costly.
Valve Seat Material SELECTION
We have a broad range of valve seat materials to suit your application, have a look at the table below or call us on 01992 515880 to talk to us in more depth about your project.
You can also find individual datasheets in our Materials Section.
| | | | |
| --- | --- | --- | --- |
| VIRGIN PTFE | Very low coefficient of friction and excellent chemical resistance. | FDA approved | -40°C to 260°C |
| 15% Glass Filled PTFE | Decreased compressive strength and lower deformation under load than virgin PTFE. | Abrasive material | -40°C to 260°C |
| 25% Glass Filled PTFE | Similar to 15% Glass better wear resistance, higher compressive strength and lower deformation under load. | Abrasive material | -40°C to 260°C |
| Stainless Steel Filled PTFE | Extremely hard wearing. Excellent strength and stability under extreme loads and elevated temperatures. | Can be used on steam and thermal fluid applications | -40°C to 260°C |
| TFM | Much denser polymer structure than Virgin PTFE. Displays better stress recovery. | Modified TFE Polymer | -40°C to 260°C |
| Carbon Graphite filled TFM | Lower thermal expansion-contraction rate than conventional TFM. | Ideal for use on steam and thermal fluid applications | -40°C to 260°C and even 320°C on Thermal Fluid applications |
| UHMWPE | Highly resistant to corrosive chemicals, with the exception of oxidising acids and organic solvents. | Also known as High Modulus Polyethylene (HMPE) or High Performance Polyethylene (HPPE) | -40°C to +80°C |
| PCTFE | Excellent for cryogenic and Oxygen use. | A homo-polymer of Chlorotrifluoroethylene | -270°C to 260°C |
| Virgin PEEK 450G | Excellent chemical resistance and mechanical properties at elevated temperatures. | An organic polymer thermoplastic | -40°C to 260°C |
| Carbon Filled PEEK | Many similar properties to Virgin PEEK. Particularly suitable for elevated temperatures and high load situations. | Low coefficient of friction and suitable for many extremely corrosive applications | -40°C to 260°C |
| PEEK HT | Retains all key features and benefits of PEEK 450G but retains physical properties to a higher temperature. | Can be supplied in both virgin unfilled or as filled compounded material | up to 260°C |
| Acetal and Delrin | Displays good resistance to wear and deformation under load. | Excellent for valve seat applications | up to 80°C |
| VESPEL | A polyimide material that has high temperature capabilities under load and is mainly used for heat transfer applications, hot gases and oils. | Must not be used with STEAM | |
Valve Seats
Contact us to discuss our valve seats services.
Our team are happy to answer any questions you have about using our products and services in your next project. Fill in your details below and we'll be in touch.