Polyurethanes are a family of elastomers, an artificial rubber which combines the strengths of a plastic, with the elasticity of a rubber.
Polyurethane
Polyurethanee a substantial importance in modern seal technology.
Our polyurethane materials range from shore A hardness 57 to 95 and are all Hydrolysis resistant – often referred to as H-PU. With a huge range of material stocks, there is no such thing as a special requiring an extended lead time.
Besides standard PU materials, we also offer materials with an optimized coefficient of friction and for direct contact with foodstuffs. We offer a range of material colours to suit all applications.

Elasticity

Optimised coefficient of friction

Wide temperature range

Mechanical stress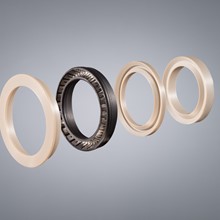 Custom Seals
When you've tried standard profile seals without success or know you're going to need a bespoke solution for a particular project, we can deliver what you need.
Polyurethane
Contact our team of experts to discuss your project.
Our team are happy to answer any questions you have about using our products and services in your next project. Fill in your details below and we'll be in touch.