All of our PTFE seals are manufactured within our UK base which gives complete control and flexibility to support almost any demand.
We are experts in PTFE solutions and we have the ability to produce a whole range of PTFE seals, including rod seals, backup rings, o rings and many more. Whether it is a seal for a standard application, or you require a custom solution, we have the expertise to deliver a seal for your project.
Our experience working with PTFE means we can advise you on the best grade to use for your application. We work with over 500 grades of materials and can even create a bespoke material that meets your needs.
CUSTOM SEALS
Our team of experts have been designing custom seals for our clients for many years. We can design your seal, and recommend or develop a suitable material for your application.
Custom Seals
Standard or Custom Seal Profiles
Whether you need a standard profile or need a bespoke design, our PTFE seals offer the ideal solution for work your particular application.
High Volume Capability
Our state-of-the-art production facilities have the capacity to produce high volumes of PTFE seals as a one-off job or on an ongoing basis.
Reliable Supplier
We supply large quantities of standard and custom PTFE seals for clients all across the world, and take pride in shipping quality products and delivering on time.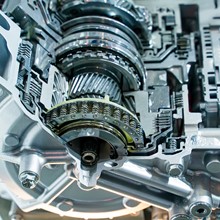 Gearbox Seals Case Study
Our technical department worked closely with our customer's design engineers to gain a full understanding of the limitations and extremes of working conditions being encountered, including temperature and media.
There are a number of benefits to using PTFE that make it the ideal material for sealing applications:
Low Friction: Due to the fact PTFE seals don't suffer from any stick/slip effect, it is an ideal material for use in dynamic sealing applications, This low friction characteristic also makes it the ideal choice for high-speed dynamic applications as heat build-up through friction is minimal.
Wide Operating Temperature Range: One of the main advantages of using PTFE for seals is the wide operating temperature range

, –70 to +250 °C (–95 to +480 °F), meaning it has a high melting point and the unique ability to resist thermal degradation.

Chemical Resistance Characteristics: Another key benefit of using seals made from PTFE is 

the chemical resistance of PTFE means they cannot be dissolved by any solvent at room temperature.

Adaptability: The addition of various fillers can alter some or all of these properties and can be adjusted to achieve desired physical properties to suit applications making our range of PTFE seals and materials extremely flexible.
Contact Us
Have a query about our PTFE seals? Get in touch to chat to our team of experts.