AFT Fluorotec has been producing plastic machined components and coatings in PTFE, PEEK and engineering plastics for over 25 years. Investments in processing technologies mean PTFE, PEEK, and fluoropolymer rod and tube materials are now produced in our new compression moulding facility. 
We have two manufacturing locations in the UK. The materials processing operation in Hertford is complemented by the SW Plastics machining facility in Kent, which now operates under the AFT Fluorotec name.
Highlights from Our History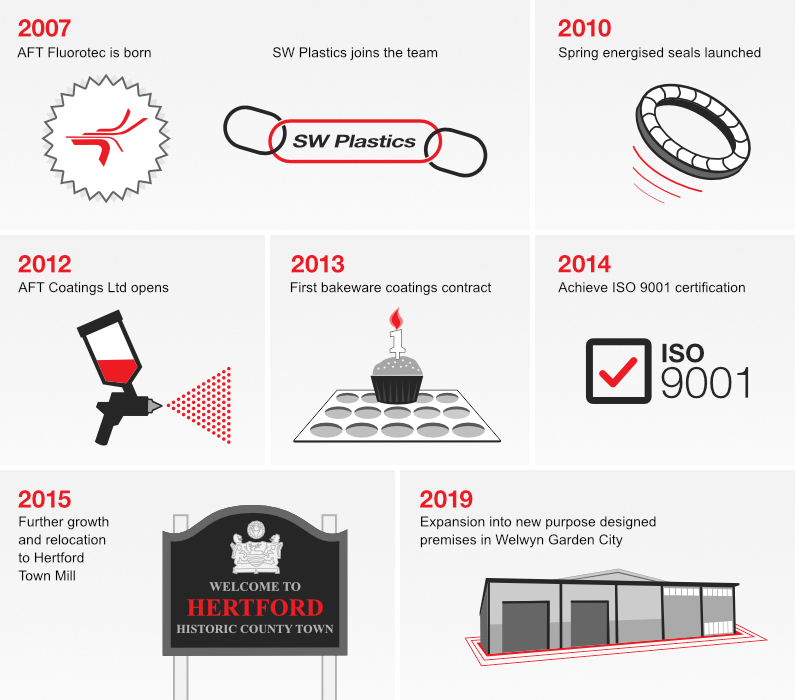 Established in 1986, we're proud to be pioneers in the machining of PTFE and other engineering plastics using the latest machining technology. "Tornos Deco" CNC sliding head 10 axis turning centres, CNC turret lathes and state-of-the-art CNC machining centres give AFT Fluorotec a range of machining resources to produce cost-competitive machined parts and coating solutions to the very highest standards, regardless of the complexity.
As a plastic machining specialist, we have extensive experience in working with a comprehensive range of plastics such as; Polyurethane, Acetal, PTFE, PCTFE, PFA, PVDF, FEP, Vespel®, UHMWPE, polypropylene, HDPE, Tufnol, ABS, ECTFE, PEEK, Acrylic and many more.