The Client
The client is an artisan bakery based in the UK supplying a range of products to high-end restaurants and hotels and retail outlets.
The client also has a growing High Street presence via a Bakery Shop network throughout London. A new development kitchen has been set up within the UK HQ to help develop 'speciality items' in both sweet and savoury products.
The Problem
The image below shows the type of bakeware that was previously in use. The blackness of the tin/strap is caused by the liberal use of oil and emulsions to aid the release of the bread.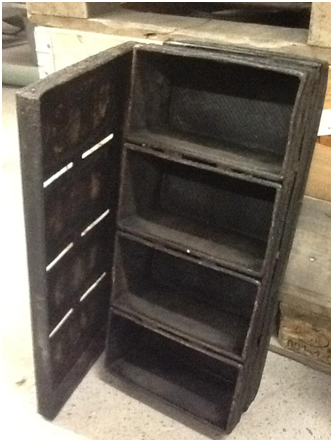 The Client had a dedicated area to apply the oil/emulsion. The net result of oil/emulsion application is that significant levels of residual oil/emulsion build-up on the bread tin which then carbonises making the outer and inner surfaces blacken and potentially become less and less effective when in use. And leaves black highly unsightly contaminant on the bread and cause the bread to stick in the tin making de-panning very difficult with the wasted product, and time-consuming. Potential fire risk from the build-up on the tins and also the use of oils.
Our Solution
The Clients entire bakeware range was replaced by AFT Fluorotec. An initial number of these bread tins/straps (some with lids) were non-stick coated by AFT Fluorotec with a view to prove our system within the client.
The image below shows one of our newly coated bakeware tins.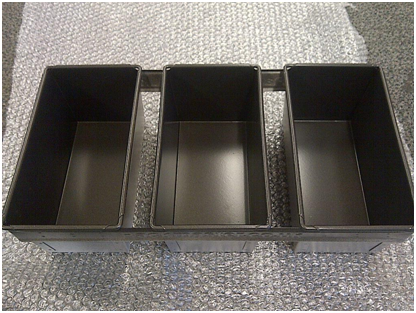 Our coating work continued over the next 12 months to date and includes cake tins muffin tins, hot-dog bake trays, burger bun trays and mini loaf tin sets.
As a result of our bakeware coating services, The Client has removed the oil/emulsion application area and are in effect now running a dry bakery.
In addition to increased productivity and overall product quality, the savings made by The Client also include lower overheads due to the removal of the oil/emulsion area, equipment and labour costs (which also reduces the risk of fire).
Our Bakeware Coatings Service
We guarantee each product is finished to the highest quality, ensuring maximum long life and durability.
Bakeware Coatings