The use of our range of fluoropolymers and plastic coatings also extends into the safety protection of glassware.
Our PTFE coated glass not only provides a tough durable safety barrier against dangerous glass shards and fragments but also a contamination-free environment.
Safety
PTFE coatings act as a tough safety barrier, not only strengthening your equipment but also minimising shards and fragments.
Consistency
One of the key strengths of fluoropolymer coatings is that even equipment with a complex geometry can be evenly coated.
Experience
Our wealth of industry experience means we can recommend the ideal coating for your application, and ensure that it is expertly applied.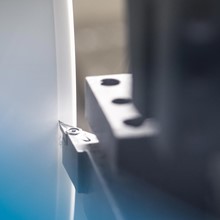 Scientific Lab Equipment
Recently we were asked to design and manufacture a multi-function valve assembly to be used in a reaction station. A reaction station is simply a machine where various factors can be controlled and chemical reaction experiments are performed for scientific analysis.
Fluoropolymer glass coatings with excellent chemical protection
Virgin PTFE coated glass is spray-applied to exterior surfaces and is therefore also suitable for items with an unusual shape.
Our fluoropolymer glass coatings also have an exceptionally wide temperature range (-200˚C to +250˚C) in addition to robust chemical protection. These qualities make them useful to a wide range of laboratory and bespoke scientific applications as well as those listed below:
Pharmaceutical plants

Food processing and packaging

Schools and colleges

Medical areas and hospitals
Coated Glass
Get in touch with our team to discuss our coated glass services.
Our team are happy to answer any questions you have about using our products and services in your next project. Fill in your details below and we'll be in touch.