The use of our range of fluoropolymers and plastic coatings also extends into the safety protection of glassware.
We've developed AFC 2206, a PTFE coating that is smooth and a non-stick fluoropolymer which our clients use for chemical resistance in laboratories and in the following industries with safety in their product;
Pharmaceutical plants

Food processing and packaging

Schools and colleges

Medical areas and hospitals
The PTFE coating is transparent so it gives the user the ability to see the substance held in the glass container without concern for any breakages. The coating is also completely chemically resistant which means there is no risk of breakages to the glass via any chemical reaction, which makes this so ideal for laboratory equipment.
This means the general advantages of glass coating are that it reduces the risk of injury, reduces the liability risk and protects the surrounding work area from contamination.
Virgin PTFE coated glass is spray-applied to exterior surfaces and is therefore also suitable for items with an unusual shape.
Our fluoropolymer glass coatings also have an exceptionally wide temperature range (-200˚C to +250˚C) in addition to robust chemical protection. Additionally to this, as the coating is non-stick, the glass is also incredibly easy to clean.
A few examples of glassware we can coat are as follows;
Light Bulbs

Flasks

Lenses

Cylinders

Evaporators

Beakers
Oleophobic and Hydrophobic
Our Glass Coatings are oleophobic and hydrophobic making it ideal for glassware protection.
High Surface Resistivity
Our Glass Coatings offers a high surface resistivity, preventing any possible leakage occurring.
Easy Clean Up
Our Glass Coatings are easy to clean due to their excellent oleophobic and hydrophobic properties.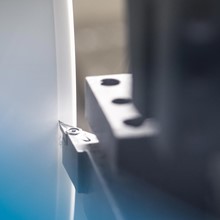 Scientific Lab Equipment
Recently we were asked to design and manufacture a multi-function valve assembly to be used in a reaction station. A reaction station is simply a machine where various factors can be controlled and chemical reaction experiments are performed for scientific analysis.
Coated Glass
Get in touch with our team to discuss our coated glass services.
Our team are happy to answer any questions you have about using our products and services in your next project. Fill in your details below and we'll be in touch.