One of the things that sets us apart from our competitors, is the sheer depth of our expertise when it comes to coatings solutions. In many cases, we work with customers who have previously been unable to find the right coating for their project and came to use our knowledge to recommend or design the ideal type of coating.
As a result of this, we've got a reputation for being able to provide coatings for even the most extreme environments and we regularly create bespoke coatings for the oil & gas industry.
Factors such as the environment that the stud bolts will be used, the temperature range they need to tolerate and what chemicals they may be exposed to, all determine the final selection of coating material. This ensures that your bolts are durable and corrosion resistant.
Bespoke Materials
There are no "off the shelf" solutions here. We work with you to understand your project to ensure we recommend the right grade of material.
Hostile Environments
You need your stud bolts to be strong and withstand the test of time. The right grade of PTFE can be an effective coating in virtually any environment.
Colour Coded
Our coatings are available in a range of colours, making it easy for you to coordinate and monitor your components.
Xylan Coated Stud Bolts
Xylan (a brand of PTFE created by Whitford), is commonly used for coating components to be used in extreme environments as it has a number of desirable properties:

Low Friction

Wear Resistant
Corrosion Resistant

Weather Resistant

Wide Temperature Range (-420° to +550°F / -250° to 285°C)

Good Pliability

Chemical Resistant

Machinable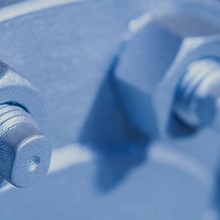 Xylan coatings in the off-shore oil industry
Whitford Xylan® coatings are widely used in the off-shore oil industry for a variety of applications such as bolts, fasteners, valves and connectors.
Stud Bolts
Need your stud bolts coated? We can work with you to determine the best grade of PTFE for your application.
Our team are happy to answer any questions you have about using our products and services in your next project. Fill in your details below and we'll be in touch.