As coating specialists, we've worked closely with food manufacturing companies across the world to coat their equipment and help save them money.
Our strengths in this market are in our depth of knowledge about fluoropolymer materials. We don't simply recommend an "off the shelf" solution for clients. Instead, we work with them to determine how the equipment will be used:
What temperature range does it need to tolerate?
What types of food will it be used for?
What is your cleaning process (what chemicals may be used)?
How will the equipment be stored?
These factors impact the choice of material, and in many cases we design a bespoke, food-safe material for our clients.
Our key services in this area are:
Bakeware equipment coating
Bakeware refurbishment
Coloured coatings
Importantly, we work to your schedule and can often accommodate a quick turnaround to help minimise your downtime.
Cost-effective
By applying PTFE coatings to your bakeware, you get more uses from your equipment and over its lifetime, it's most cost-effective compared to silicone glaze.
Easy to clean
PTFE coated bakeware is much easier to clean, which means you'll spend less time and resources cleaning your equipment (which is better for the environment!).
Efficient workflow
From coloured coatings to help you judge the age or function of different baking trays, to a staggered refurbishment cycle to minimise downtime - we can help you work more efficiently.
Better products
Our non-stick coatings produce great results each time and don't need grease to aid release. That means less waste and better products every time.
Bespoke materials
Sometimes a standard grade of PTFE isn't quite right for your environment. We work with our customers to pick the right material for the job.
Industry experts
Whether you simply need a better material to coat your equipment, or you want us help design your equipment, our team of experts can help.
Non-stick coating DEMONSTRATION
In the video here, you can see a quick demonstration of our non-stick bakeware coatings in action.
It's important to note that one of the many strengths of materials such as PTFE is their consistent strength. With the right coating on your equipment, you get consistently good results time and time again.
With no grease needed to aid the release of your product, the end result is much better too - in fact, you get a perfect result every time.
Contact us to discuss non-stick coatings and how we can help your business.
Example applications
Dough hoppers
Dough chutes
Dough rounders
Dough rollers
Mixing bowls
Spreader bars
Bread tins
Bun trays
Baking trays
Muffin trays
Pie hoops
Pie tins
Crumpet rings
Cake tins
Cutting blades
Rollers
Mixing vessels
bakeware af codes
| | | |
| --- | --- | --- |
| AFC3100 | Pizza Pans, Pie Tins, Crumpet Rings | AFC3100 is an alternative to silicone glaze but it is important you also use a secondary release agent. |
| AFC3200 | Baguette Trays, Standard Trays, Frying Pans | AFC3200 has outstanding release properties, excellent non-stick properties and extends your product lifecycle. |
| AFC3300 | Burger Bun Trays, Roll Trays | AFC3300 has excellent durability and long-life properties, as well as effective dough flow characteristics. |
| AFC3400 | Burger Bun Trays, Roll Trays | AFC3400 has extreme toughness and enduring properties, and like AF 3300, it also has great dough flow characteristics. |
| AFC3400+ | Muffin Trays, Cake Tins, Belgian Bun Trays | AFC3400+ has superb long-lasting and non-stick properties and provides an extra layer, particularly for high sugar foods. |
| AFC3300+ | Muffin Trays, Cake Tins, Belgian Bun Trays, Bread Tins | AFC3300+ prolongs your product lifecycle and is a cheaper alternative than our AFC3500. |
| AFC3500 | Bread Tins & Straps | AFC3500 is our top of the range coating providing you with an extremely hard wearing layer and long-lasting protection. |
How much can you save?
Coating your bakeware equipment is not only a more effective solution than using silicone glaze, it's also saves you money! Our coatings last much longer than silicone glaze - a PTFE coated tin will typically last 10 times longer than a silicone glazed tin.
Check out our calculator to see how much you can save by coating your tins with PTFE.
Silicone Glaze
vs
PTFE
Tell us about your Silicone Glazed tins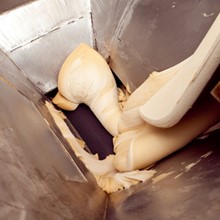 Rapid Dough Hopper Recoatings
We were approached by a Fabrication and Service company, whose customers had been having issues with their industrial bakery dough hoppers. They were in desperate need of a rapid recoating service to ensure only minimum factory downtime was required.
Bakeware Coatings
Have a query about our bakeware equipment coatings? Get in touch.
Our team are happy to answer any questions you have about using our products and services in your next project. Fill in your details below and we'll be in touch.