The replacement of a single fluorine atom on the carbon backbone with a chlorine atom, changes the properties of the fluoropolymer to allow melt processing. Through melt processing PCTFE resin can be modified to give different mechanical and optical properties by controlling the crystalinity of the material.
PCTFE can be moulded or extruded into rod, tube, sheet or plate to be CNC machined into a finished component. It can be supplied in a modified form as tape, oils, tubing, and as a coating. 
Properties of PCTFE
PCTFE can be supplied in thin transparent sheets, with a very low crystaline structure, which offers exceptional optical properties, with the material looking similar to glass. PCTFE in this form is extensively used as sight glasses.

Rigidity

Resistance to stress cracking

Non wetting

Toughness

Corrosion resistance

Highest limiting oxygen index

Cryogenic characteristics

Resistance to weathering

Resistance to cold flow

Chemical Resistance
Check the chemical compatibility of PCTFE
Choose a chemical (start typing)
20°C / 68°F
60°C / 140°F
100°C / 212°F

Resistant

Not Recommended

No Data

Resistant

Not Recommended

No Data

Resistant

Not Recommended

No Data
Resistant
Not Recommended
No Data
Let's talk
Get in touch to discuss your project.
Our team are happy to answer any questions you have about the chemical compatibility of the materials we provide. Fill in your details below and we'll be in touch.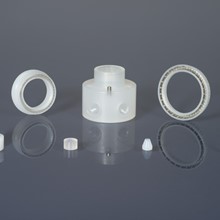 PCTFE Benefits and Qualities
Read more about the unique properties of PCTFE and what this versatile material can be used for.
We can produce PCTFE tubes in all sizes
AFT Fluorotec in Hertford recently manufactured PCTFE tubes over 700 mm in diameter to be used in the production of valve seats. A first for AFT Fluorotec to produce a hot moulded PCTFE tube at this size.
Expansion of our in house moulding capabilities allow us to offer improved lead times and pricing to our customers for these types of products.  Our tube moulding capabilities in PEEK and PTFE have already reached 1000mm mm in diameter, and we will continue to expand our range of moulded tubes in melt fluoropolymers such as PCTFE as demanded by customers.
PCTFE facts – Did you know?
PCTFE is a unique fluoropolymer that is capable of maintaining its physical properties at exceptionally low operating temperatures.
PCTFE is the chemical name for Neoflon M 300h or M400 h which is produced by Daikin Fluoropolymers of Japan. Previously the material was also produced by 3M and branded as KEL F, production was discontinued in the 1990's.
PCTFE is commonly used as a valve seat material where a high performance sealing material is needed for use with cryogenic gases and or liquids down to a lowest operating temperature of -240 C.
Other properties include exceptional chemical resistance, low deformation under load, and high compressive strength.
PCTFE in thin sections can be made optically clear through adjustments in processing to alter the crystalinity of the PCTFE itself. Other properties can also be enhanced to a degree such as elasticity, mechanical strength and density
Real life uses for PCTFE:
LNG storage and transport applications where the materials stability at low temperature makes it an ideal choice as a ball valve seat or butterfly valve seat material.
PCTFE Material & Components
Considering PCTFE for your project? Get in touch and our team can advise you on the properties and suitability for your application.
Our team are happy to answer any questions you have about using our products and services in your next project. Fill in your details below and we'll be in touch.