Product hygiene, plant efficiency and overall profitability depend on clean bakeware equipment. A coating that is worn or damaged can have a detrimental effect upon productivity, yield and the appearance of the end product.
AFT Fluorotec can help with the management of the bakeware and establish a continuous cycle to keep your bakeware equipment clean and hygienic whilst prolonging its life.
Our service can be designed as a continuous rotating cycle to suit your individual needs whilst ensuring minimal disruptions and work stoppages. With continued aftersales care we are able to monitor and plan in any required refurbishment for your industrial bakeware.
We have the facilities to carefully remove both the carbonized products and old coatings before re-applying a completely new coating so that they are returned to their original condition. In many cases we are able to offer far superior coatings to those specified on OEM equipment.
We can also offer you colour coding systems which help customers identify and manage distinct inventory for gluten free, nut free, kosher and other specialised bakery products.
Save money
Over the lifetime of your equipment, the right coating is much more cost-effective compared to silicone glaze.
Less waste
Your equipment releases products in better condition and takes less time and resources to clean.
Better equipment
Your bakeware may look like it can't be refurbished, but we can help you get many more years from it.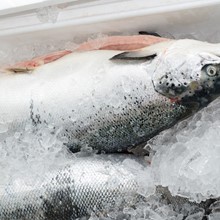 Helping Scottish Salmon Fly Off The Shelves
AFT Fluorotec Coatings have had a huge impact on this customer with £100k saved annually on silicone paper costs and less waste due to damage.
| | | |
| --- | --- | --- |
| AF3100 | Pizza Pans, Pie Tins, Crumpet Rings | AF3100 is an alternative to silicone glaze but it is important you also use a secondary release agent. |
| AF3200 | Baguette Trays, Standard Trays, Frying Pans | AF3200 has outstanding release properties, excellent non-stick properties and extends your product lifecycle. |
| AF3300 | Burger Bun Trays, Roll Trays | AF3300 has excellent durability and long-life properties, as well as effective dough flow characteristics. |
| AF3400 | Burger Bun Trays, Roll Trays | AF3400 has extreme toughness and enduring properties, and like AF 3300, it also has great dough flow characteristics. |
| AF3400+ | Muffin Trays, Cake Tins, Belgian Bun Trays | AF3400+ has superb long-lasting and non-stick properties and provides an extra layer, particularly for high sugar foods. |
| AF3300+ | Muffin Trays, Cake Tins, Belgian Bun Trays, Bread Tins | AF3300+ prolongs your product lifecycle and is a cheaper alternative than our AFC3500. |
| AF3500 | Bread Tins & Straps | AF3500 is our top of the range coating providing you with an extreme hard wearing layer and long lasting protection. |
How much can you save by using ptfe?
AFT Fluorotec's PTFE Coatings are ideal for bakeware applications due to PTFE's excellent durable properties which can also save you money in the long run. 
Find out how much you can save by using our Silicone Glaze Vs. PTFE calculator below.
Silicone Glaze
vs
PTFE
Tell us about your Silicone Glazed tins
Bakeware Refurbishment
Contact our team of experts to discuss our bakeware refurbishment services.
Our team are happy to answer any questions you have about using our products and services in your next project. Fill in your details below and we'll be in touch.