Laser marking gives you the flexibility to engrave your plastic parts with a broad range of designs and text. Due to the relatively quick setup and production time, AFT Fluorotec offer laser marking services at very cost-effective prices.
Laser markings are abrasion, heat and acid resistant

Most types of plastics are suitable for laser engraving

There is a wide range of intricate designs and text that can be engraved

The process is fast, which means it will only have minimal impact on the delivery of your order

It's a cost-effective solution
Seals marking
Use our laser marking service to mark component numbers, dimensions or other information on your plastic parts.
Barcodes & QR codes
We are able to laser mark machine readable codes on to most external plastic parts to ensure they are easy to identify.
Company branding
Our laser marking service is a cost-effective way of ensuring your brand is reflected on your plastic parts.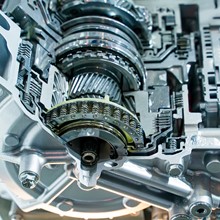 Gearbox Seals Case Study
Our technical department worked closely with our customer's design engineers to gain a full understanding of the limitations and extremes of working conditions being encountered, including temperature and media.
Laser Marking
Get in touch with our team to discuss our laser marking services.
Our team are happy to answer any questions you have about using our products and services in your next project. Fill in your details below and we'll be in touch.