AFT Fluorotec Structural Bearings can reduce construction costs by designing for expansion rather than strain. They can easily be installed on-site or pre-assembled.
PTFE used within the bearing naturally provides an electric and thermal insulation which can be increased with a further layer of elastomeric material.
We are global providers
Our Structural Bearings are used in buildings, car parks, supermarkets and offshore oil platforms worldwide.
We focus on quality
At AFT Fluorotec, we take pride in producing high quality Structural Bearings and other Slide Bearings to an ISO 9001 standard.
We are perfectionists
We have an exceptional attention to detail when manufacturing precision components and engineering plastics.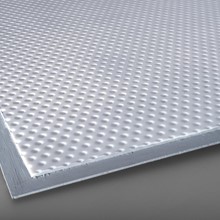 An Architect's Guide to Slide Bearings
If you're an architect looking to learn more about slide bearings in construction, you'll find everything you need to know in this article.
Structual Bearing Pads
Get in touch to discuss our structural bearing pads.
Our team are happy to answer any questions you have about using our products and services in your next project. Fill in your details below and we'll be in touch.