We are often asked to take over a project when another coating supplier has provided the wrong coating solution, which ends up adding on more cost for the client.
By taking more time at the start of a project to understand the client's business, specific application detail and what they need a coating solution for, we can recommend an approach that they can be sure will be the best for their business.
What's the primary purpose of the product?
It's clearly important that a product is fit for purpose – for example, baking trays need to be non-stick and tolerant to high temperatures, or they couldn't do their job.
That seems pretty obvious, but there are a number of solutions that meet these criteria.  This is usually where most coating suppliers will decide which solution to use, but that can lead to problems...
Cost-effective
We can help you select the right coating, that will help extend the life of your equipment and reduce the cost of maintaining it.
ISO approved
The adoption of ISO 14001:2015 enables us to monitor and continually improve our waste management, meet and exceed environmental legislation and reduce risks to the immediate and wider environment.
Quick turnaround
Even at short notice, we can work to your schedule and ensure your equipment is coated and back with you as soon as possible.
Your equipment has a life cycle, not a singular purpose
Its primary purpose, while important, doesn't offer the whole picture and can result in the wrong solution being selected.
A baking tray does need to withstand high temperatures, but it also needs to be easily cleaned and stored without damage.  These are additional variables which influence the ultimate choice of coating solution and impact:
The lifespan of the coated equipment

The quality of finished product

The cost of maintaining or replacing equipment
By taking the time to understand your equipment and how it is used, we can deliver a superior finished product that really can bring more value to your business.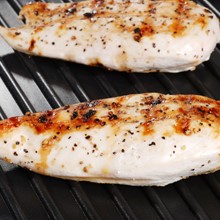 Finger-lickin' savings
Applying the non-stick coating to the mesh allowed easier release of the product which has resulted in lower wastage and longevity of the stainless steel mesh.
Choosing the Right Solution
Have a query? Get in touch with our team of experts.
Our team are happy to answer any questions you have about using our products and services in your next project. Fill in your details below and we'll be in touch.