We have been designing and manufacturing precision plastic parts for clients across the world for over 25 years.
Throughout this time, we've worked with clients to create complex machined parts from a wide variety of materials and in many cases, been able to deliver solutions that other suppliers couldn't.
We can create a wide range of machined plastic parts in over 500 different grades of PTFE and we are also an approved VICTREX PEEK processor. Our capabilities range from seals up to 1800mm diameter, PTFE diaphragms and gaskets, very small precision machined components and laser marking.
Our team of experts is on hand to advise you on the right material to use for your application and we can even work with you to design a bespoke material that's perfect for your project.
We deliver worldwide and can work to short lead times, so get in touch to discuss your requirements.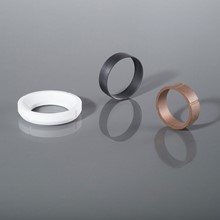 An Unrivalled Range of Materials
One of our main strengths is the vast range of fluoropolymer materials we have available. We can even work with you to create a bespoke material that's ideal for your application. 
HOW CAN WE HELP?
No matter how small the parts or what the material is, our machining facilities can accommodate your order. Get in touch with our team today.